About
Hi!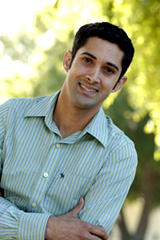 I'd like to introduce myself. My name is J. Elijah Munoz; I am a co-owner of Sparky's Pet Salon. I have been working with animals since I was a kid. I grew up on a farm with lots of them. My favorites are goats and dogs. I decided to enter the grooming business after being inspired by my own dog Sparky. The company name and the Logo are a representation of who Sparky is – a loving, happy dog!
Who We Are
We are a full service pet grooming salon in downtown Orlando, and we love animals! We know your pet is an important member of your family, and we promise to make them feel safe and comfortable while in our care.
We use all natural, biodegradable shampoos because they are safe for pets and the environment. Our groomers are skilled in professional grooming techniques for cats and dogs and understand the particular grooming needs of different breeds.
How Much We Care
Part of our grooming service is to check the condition of your pet's skin, coat, eyes, ears and teeth, and we can alert you to symptoms of common medical problems so you can consult with your vet early on. We also provide special treatments should your dog or cat have fleas or ticks. Regular grooming keeps your pet healthy and looking nice!
I absolutely love what I do, and I look forward to seeing my clients everyday. I take great pride in my work and treat all of my furry pets like they are my own…. yes, I do like to spoil them with lots of love and even a special treat if it's all right with their owners. I feel very fortunate to have a career working with pets. There is a great deal of satisfaction knowing my clients look and feel good when they go home. That's what makes my job so rewarding. I welcome walk-ins, so please come by to say hi!
Sincerely,
J. Elijah Munoz
Sparky's Pet Salon
Check Out Sparky's Affiliations